Queensferry Crossing - facts and figures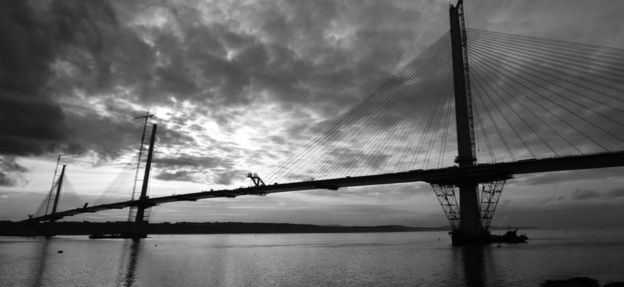 More than 15,000 people have been involved in the project since the inception of plans for a new bridge in 2007.
The structure is 207m above high tide (683ft), equivalent to about 48 double decker buses stacked on top of each other.
It is 50m (25%) higher than the existing Forth Road Bridge
The steel required for the bridge deck weighs a total of 35,000 tonnes - equivalent to almost 200 Boeing 747s
The combined steel required for North and South viaducts weighs 7,000 tonnes - enough to make another 23 Kelpies.
The bridge has windshielding to almost entirely eliminate the need for closures during the frequent periods of high winds in the Forth estuary
Cables can be replaced with more ease than on the Forth Road Bridge - it can be done as part of normal maintenance works without closing the bridge.
The foundations of the bridge are large caisson - circular steel structures - sunk into the mud of the estuary to bedrock level.
The south caisson is the height of the Statue of Liberty. It is 35m in diameter and when it was constructed it was 50m in height.
At the southern tower they poured 16,000 cubic metres of concrete over a period of 15 days continuously from barges on the river.
The Forth Replacement Crossing is the project behind the Queensferry Crossing, thenew road bridge connecting both sides of the Firth of Forth.
BBC -News report - Queensferry Crossing
DATE - 2008 to summer 2017 BUDGET - £1.325 - £1.35 billion
Designers claim this will also allow buses to be moved from the Forth Road Bridge in high winds or other dangerous weather conditions.
As the new bridge will be a designated motorway, it means learner drivers and motorbikes under 50cc will not be allowed on it.
The man behind the building project, Michael Martin, said the new crossing was "one of the world's great bridges".
The new 1.7 miles (2.7km) publicly-funded crossing is the biggest infrastructure project in Scotland in a generation and will replace the Forth Road Bridge as the main road route between Edinburgh and Fife, carrying 24 million vehicles a year.
The existing road bridge, built in 1964 and dogged by maintenance problems, will continued to be used by cycles, pedestrians and eventually buses.
The iconic 19th Century Forth Bridge , which carries the railway over the river, lies just a mile away.